GATOR-BITES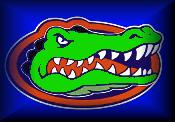 Game 1
SCSC GATORS 4
vs
Brighton Eclipse 4
@Brighton- 4-25-98
After quickly falling behind 2-0 in the first 10 min of the game, the gators finally settled into their game. The defense held strong, while the "Turtle" shut them down the rest of the half, allowing the Gators offense to come alive, scoring 2 goals. The first goal came from #7 Courtney on a pass from #1 Kristi. The second goal was unassisted on a breakaway by Kristi. The first half ended 2-2. Courtney started in goal after te break. Brighton started the 2nd half scoring with a goal making it 3-2. The Gators then exchanged goals Brighton making the score 4-3 with little time remaing. The Gators then applied the pressure for the remainder of the game. The PLAY OF THE GAME came with 28 seconds left. The Gators recieved a throw in. #9 Katie thinking quickly threw the ball in to #15 Danielle, who quickly dropped a pass to #17 Jessica, who in turn found Kristi with a pass in front of the net for the tying goal.
Despite the brief lapses, the ENTIRE TEAM played a great game. Katie had a team high 5 tackles, to go along with the fine throw in to earn the DEFENSIVE PLAYER of the game.
#6 Alayna followed with 3 1/2, #10 Kristen and #20 Andrea both with 3. With 3 goals and 1 assist
the OFFENSIVE PLAYER of the game goes to Kristi. GOOD JOB GATORS!