GATOR-BITES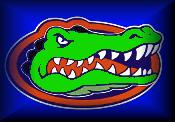 Game 1
SCSC GATORS 3
vs
BSFC Burners 0
@Burners 5-2-98
The rain held off for today's game, but the mud and water did not!!! The muddiest game played to date, I believe, and I'm sure all the parents could tell from their washing machines! Although the Gator Girls seemed to enjoy it the most, responding with Turtle's & the Team's first shutout of the season. First goal of the game came at the 9 min mark mark on #1 Kristi's perfect corner kick to the mouth of the goal, where #14 Manuela scored her first goal the season, giving her the Offensive Player of the Game award. Kristi scored a goal of her, own a pass from #17 Jessica to make it 2-0. #15 Danielle capped off the scoring for the Gators with an unassisted goal to make it 3-0.
#11 The "TURTLE" was on fire, behind an awesome team defense, to record the first shutout of the season. The entire defense played extremely well, allowing only 3 shots on goal. #18 Meagan lead the defenders with her aggressive play, recording 4 tackles,
earning her the Defensive Player of the Game award,(and again The Muddiest). Following her was #5 Carrie & #19 Shannon with 3, and #20 Andrea with 2. Great Game Gators!